Magento Or Shopify – Which Is The Right Choice For Your Business?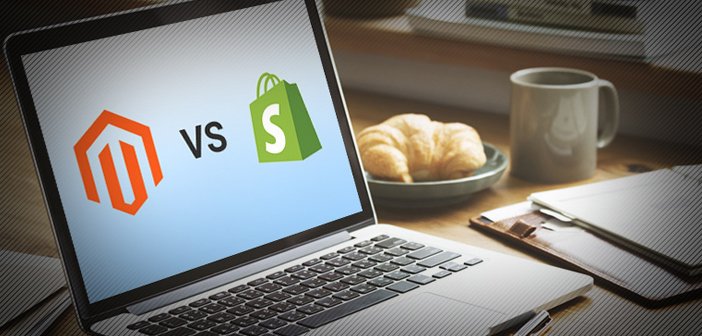 The landscape of the ecommerce industry is growing and evolving, that's one thing that's pretty evident to anyone who has the slightest bit of interest in the industry. Now, this also puts up an exciting opportunity for all businesses to leverage this high demand and create their ecommerce store.
Fortunately, businesses today don't have to go through tedious web development processes as experienced by the earlier generation. Today, various intuitive and interactive ecommerce development platforms like Shopify, Magento development services, WooCommerce, and others make it pretty easy for businesses to create some great ecommerce stores. According to a report shared by Nasdaq, 95% of the purchases will be online by 2040, that's a huge number, right?
Of course, there are endless opportunities in the digital commerce world. Consequently, every business is making their best efforts to try their hands-on digital commerce for supporting business growth (it's obvious). In case your enterprise is looking for a promising eCommerce platform, Shopify and Magento are two of the leading platforms you should check out for your needs.
And just in case you are thinking about how to compare two platforms, relax because that's exactly what we will be doing right here. So, let's just find out the right choice for your business, shall we?
Why Magento Is the Best Choice?
With each passing day, Magento is acquiring the eCommerce world, making it arguably one of the best eCommerce platforms for ecommerce development purposes. According to stats, Magento is responsible for powering 12% of total eCommerce websites. The platform is specifically ideal for large merchants and big ecommerce stores trying to gain a big footprint in the market.
Magento has a reputation for offering a wide range of growth opportunities for enterprises. Generally, enterprises using Magento portray growth rate up to three folds. Magento delivers a promising consumer experience and helps increase the revenues for digital businesses. Also, various features of Magento provides the competitive edge, such as;
Intuitive UI
SEO
Open-source platform design
Simple content management system
Online community
Highly responsive themes
Multiple channels for cross-selling
Easy third-party integrations
Customizable customer experience
Accelerating The Revenue With Customization 
The eCommerce platform must mirror the business needs and Magento delivers the capacity. This is because there are easy customization and flexible features available in Magento for the online stores. The customization helps create the eCommerce store that aligns with the brands' needs. The customizable features of Magento are mentioned below;
Themes & Module Development Customization
With Magento, businesses can connect with their customers through user-friendly and intuitive online stores. Businesses can develop consistent branding for online stores, irrespective of the platform through customizable themes. Besides, the themes are highly responsive, promising better integration with web browsers.
Secondly, the customizable module development of Magento can be used for enhancing the operational efficiency of the business. With the module development features, the online stores can be combined with various business functions.
Leverage Top-Notch Web Development Services
For creating a promising user experience with digital stores, the businesses must have a unique web design, modern planning, and responsive theme. For this purpose, Magento has highly-educated and experienced developers, such as Rolustech. With top-notch web development services, businesses will have access to speed, SEO, and hosting optimization.
Magento & CRM Integration
Modern customers demand a personalized user experience. Likewise, they expect the companies to show their preferred products. As a result, CRM integration with Magento delivers promising results. This is because Magento has flexible features and robust design while CRM integration will create an unparalleled customer experience. Furthermore, businesses can leverage CRM data and gain insights that enhance the user experience.
The Verdict 
For businesses looking for a multi-channel eCommerce platform, Magento is a promising choice. This is because Magento is user-extremely with optimized and faster performance. On the contrary, for aligning with the increased competition and higher online sales, Magento can be integrated with CRM. As a result, it will streamline the business functionalities and processes.
Why Shopify Is The Best Choice?
Shopify is the top-rated ecommerce development platform, primarily because it's free of complicated features. For the most part, Shopify can be used to develop the online platform from scratch without any technical information. That being said, users can create a Shopify account and use the toolset for setting up the online store. The ability to add intricate details is something we love about.
Once you complete the settings, the online store can simply go live and receive the sales. This eCommerce platform helps offer streamlined store management while offering control on the online store. The online stores created through Shopify are easy to manage and data can be entered through a well-defined and clean dashboard.
Enriched App Platform 
If we had to choose one favorite feature of Shopify development services, it would be the enriched app platform because Shopify has a wide range of handy apps. The users will have access to the app ecosystem, so there is an app for every feature an online store can demand. For instance, the dropshipping needs to have apps like Oberlo.
With Oberlo, there are product research, customization, sales tracking, inventory management, order tracking, and more. With Shopify, the available apps will help scale the business, in terms of management, increased sales, and marketing. Similarly, there are special apps for sales, administration, content, customer service, and marketing & management.
Better Support 
While using Shopify for the first time, people often need help and Shopify will deliver streamlined support. The customer service is available around the clock. Besides, customer support is designed to offer solutions, whichever the problem is. Customer support is available through live chat, email, and call.
In case of technical issues, the customer support can direct you to professionals and the rest will be history (believe us!). Even more, the Shopify experts can help set up the online store.
Vast Theme Collection 
Shopify has designed thousands of pre-designed themes for the users. The users can access the theme store that aligns with design and style. Also, the themes can be chosen according to the functionality. All in all, there are paid and free themes available. There are theme categories available, such as clothing, fashion, accessories, photography, food, games, health, beauty, electronics, and more.
The Verdict
Shopify is a promising eCommerce platform for startups and entrepreneurs with lower budgets, whereas, Magento may be the right choice for large enterprises. However, there will be a need for in-depth research to ensure you can curate the digital and online store. All in all, you can always ask for help from the Shopify experts, that's the perk we love!